Weezzi Server
High performance innovation server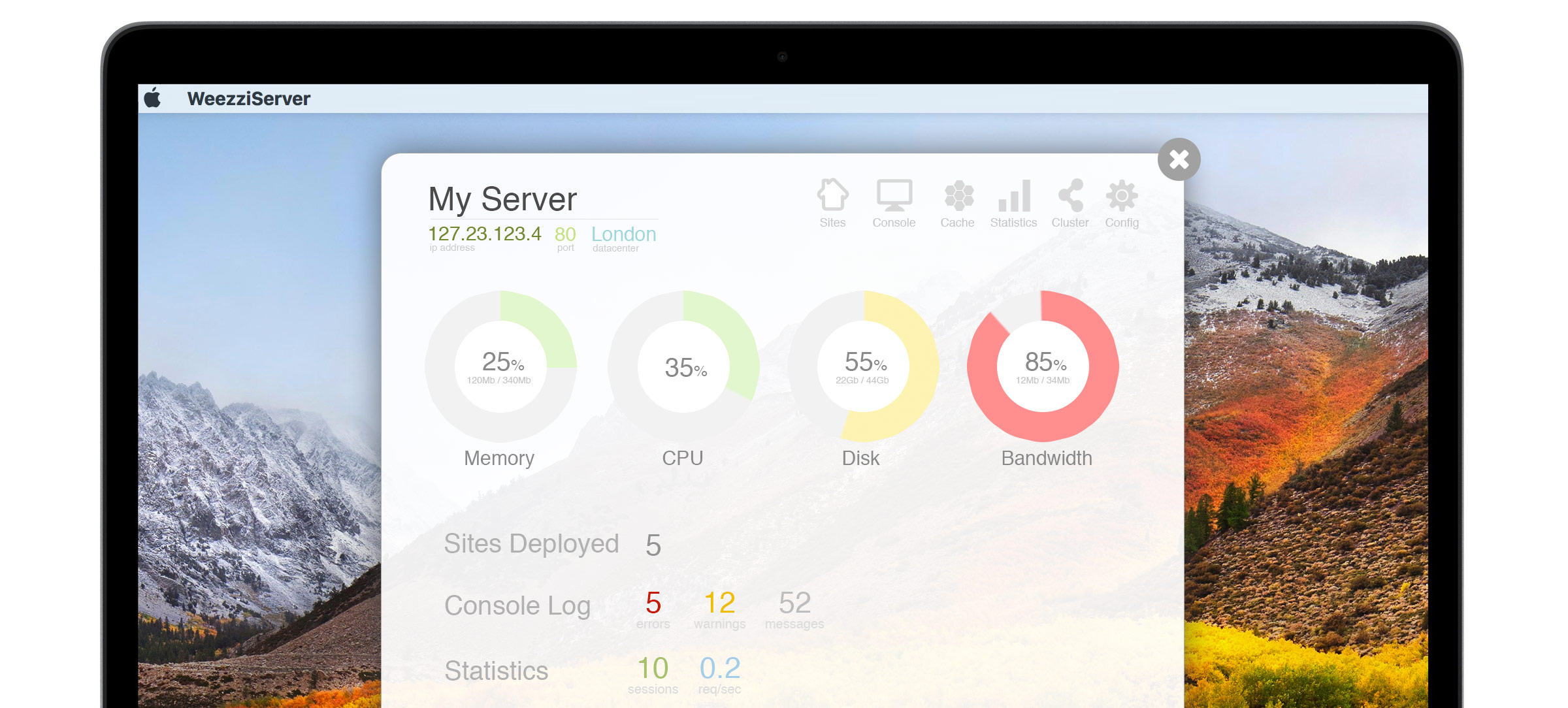 Innovation for Web
Innovative Data Caching

Revelutionary web caching specific implementations capable to release changes without additional programming providing instananeous page rendering times

Unique Page Rendering

Our innovative web page rendering engine, can render dynamic pages practically at speeds of common static content pages.

Built-in WebAccelerator

Weezzi Server has built-in web accelerator technology with improved optimizations to accelerate even more
Instant Hotdeploys

Deploy changes into development or production without restarting the whole server. Just deploy what you need, instant updating your app or site without wasting time restarting gaining several working days per month

Faster developments

Code and address scope changes in much lesser time lowering your costs and maintain high code quality with Weezzi Builder

Clusterable

Add more servers without worrying about configurations, plug-in a new server and it will integrate with existing servers automatically.
BUILT TO SCALE
Clusterable and high performance architecture
Weezzi Central

Real-time monitoring of infrastructure across all servers

CDN Page rendering

Content Delivery Network optimized page rendering without any extra coding needed on the development side
Cluster real-time monitoring

Monitor servers and applications with Weezzi Central to know performance issues and cross server logging

Stateful or Stateless

Either if you prefer stateful or stateless architectures to states to scale up to your needs and preferences
SECURITY FIRST
Advanced built-in security features
Malware detection

Weezzi Server has built-in technologies to make your web applications safer & secure detecting malware probes and reacting to attackers in real-time.

Code Obfuscation

Activate & obfuscate all your code with a push of a button, no thirdparties needed, fully integrated and much easier to test
Session tracking & surveilance

Built-in surveilance accross all server requests, immediate actions upon malware or intrusion attempts detection

Denial of Service Detection

Each server has denial of service algorithm detections to prevent as soon as possible potential attacks to the infrastructure
Easy your development efforts
Increased productivity and development focus
Multiple OS Support

Either Linux, Mac or Windows your server will run anywhere.

Instant Hotdeploys

Gain various developer working days per month. Just deploy what need, instant updating your app or site without wasting time restarting the whole server
Client-server AJAX Framework

With an integrated ajax framework you can develop new advanced features in seconds instead of hours

Client-server Web Sockets Frameworks

Create web-socket base applications in minutes with simple few lines of code and deploy them effortlessly
Built-in Social Network Integration

Make signin directly from any social networks effortlessly

Built-in Payment Platforms

Paypal, Stripe and other payment platforms are implemented already for you.
Distinct Site & Backoffice environments

Our technology handles site and backoffice in specific development environments reducing development efforts, better security and maximize productivity

Messaging systems integration

Out-of-the-box integration with Weezzi Messaging Server to scale your application to another level with asynchronous messaging
Web Services Ready

Create, deploy & update your web services in a couple of minutes

Distinct deployment enviroments

Configure and deploy semeously to the desired environment making development, stating, pre-production, acceptance and production migrations easier and efficient
Native Image & Sprites Engine
Built-In Sprite Builder

With Weezzi Styler you can change your layouts design in no time and deploy to each site independently changing it instantly

Image Scaling & Effects

With a built-in image effects, cropping & scaling features you can create the most astonishing images and optimize them from server side reducing bandwidth needed from the client and guarenting the best quality for the device that is accessing.

Retina Ready

Advanced image render with built-in retina displays support
Media & Asset Manager
Built-in Asset Manager

Full featured asset manager to handle any media or files easily and transparently accross all site

Video Streaming

Stream videos, sounds or other media creating the fast user experiences
Simple Expressions Language
SIMEL - A Language for Web
Innovative language to fasten project development
Variable binders

Fill contents easily with the data you wish

HTML, CSS or Javascripts

Can be used across either HTML, CSS or Javascripts
Obfuscation ready

Select what you wish to obfuscate with ease to transparently later obfuscate all your code

Complex evaluations

Extended functions to achieve complex features with ease and minimum effort
Multiple Devices, Browsers & Languages
Built to be cross platform and real case web scenarios
Multi-Device Ready

Mobile is more than just responsive web pages, with our technology you can deploy easily specific code to each device accordingly to your needs

Multi-Language Ready

Built from the ground up to be multi-language ready our page rendering engine makes developers life much simple and easier.
Multi-Site Enabled

Deploy multiple different solutions into one server with ease and simplicity

Multi-Browser

Create custom code for specific browsers